The BeReal app was released in January 2020, and was created by Alexis Barreyat and Kevin Perreau, but for the first 2 years it hasn't seen much success. The BeReal app saw major growth in popularity just last summer, becoming the number one app in Apple's App Store.
What is it and how does it work?
BeReal defines itself by being "the simplest photo sharing app".
The principle of operation is as follows: once a day, at a time randomly chosen by the app, you are invited to take a photo, which will use both cameras of the phone.
The idea of the app is to share an authentic moment from your life, something which you have not manipulated or edited for it to look its best, and when the invitation to take a "BeReal" pops up, you have two minutes to take the photo.
In addition, the app does not have filters. The photos can also be posted later, but your friends will see how many minutes you were late after the invitation came.
To react to someone's post, you can't just press a button. It is necessary to take a selfie of your face in a circle-shaped frame within the app.
These are called "realmojis", where instead of commenting with an emoji on someone's post, your facial expression becomes an emoji itself.

How can brands use BeReal?
BeReal does not offer much in terms of functionality.
There are no sophisticated functions to enhance your posts, you cannot collaborate with other users to publish sponsored posts and you cannot create visuals with an outstanding design.
The only assets you have for creating posts are your front and rear camera of your device.
So, what is the solution?
If brands wish to add BeReal to their social media marketing mix, they must make sure they align with the platform's concept.
Brands must be ready to be authentic, with no filters.
They have to be more creative and use the power of storytelling to differentiate themselves from the crowd and draw attention to the BeReal public.
Only then will they have the chance to take advantage of the platform and build a strong community of supporters of the brand around them. Some brands have already understood that BeReal will have to accept advertisers, but not necessarily advertising, and their marketing results have been impressive on BeReal.
We have compiled a list of 3 brands – big and small – which are present on the new social media app. Let's take a look at what they have posted so far and find out how brands can use BeReal for marketing purposes.
With the help of the "For Real" campaign, which Chipotle launched in spring 2022, this Mexican fast-food brand became one of the pioneers for BeReal marketing. With this BeReal, Chipotle created the feeling of a tight-knit community – only those who befriended Chipotle on the new social networking platform received a delicious offer.
Kiehl's also took advantage of BeReal marketing and created a corporate account on the platform.
However, the difference between Chipotle and Kiehl's lies in the fact that the latter uses BeReal to show the behind the scenes of the brand.
This is evident from both its profile picture for its BeReal account, this brand chose a picture of Kiehl's staff with their mascot, Mr. Bones-, and from their daily posts.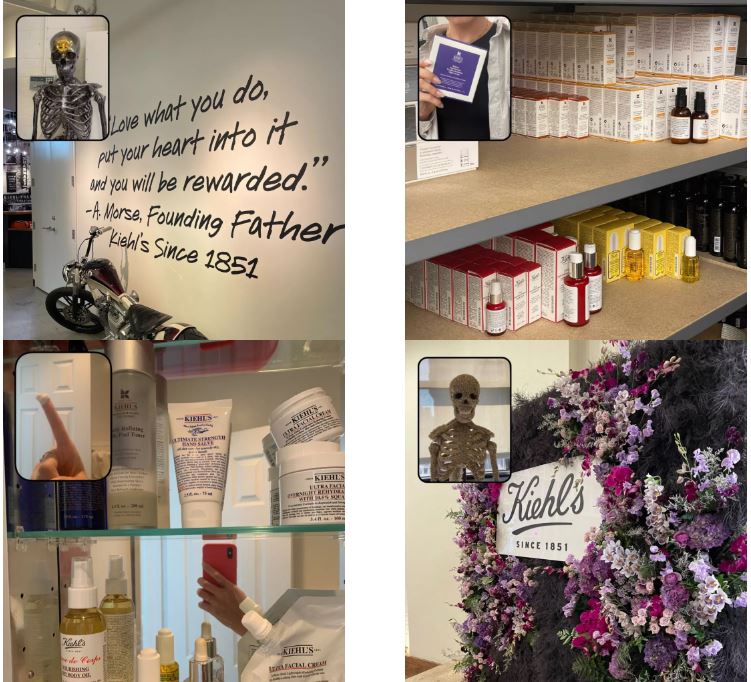 Selena Gomez's cosmetics brand, Rare Beauty, is one of the most popular brand accounts on BeReal. In reality, it is so popular that despite its creation during the summer of last year, the brand has exceeded the friends limit on BeReal, therefore the platform does not allow any more friend requests to Rare Beauty.
Rare Beauty leans towards a more humorous approach to its content sharing, with its post acting as an extension to the brand's TikTok content, which focuses on its products with googly eyes glued on them.
What can brands learn from BeReal?
To share authentic posts. The BeReal public appreciates originality, authenticity, and integrity. The posts are not centered around who has the best content, but rather on the fact that you contributed, even if it is a simple daily activity.
To think in an integrating manner. The BeReal public seeks inclusion and wants that to be represented in the content they consume. Remember this, if possible, when taking "behind the scenes" photos.
To not make an obsession for production. Simple is better than flawless in the BeReal world; in other words, blurry photos are not a problem. Perfection is not expected and not even preferred.
To establish a member of the team (or a team) to be dedicated BeReal representatives and ensure that the ones who are part of the team understand the nature of random synchronization of the app. Social media managers should be reconciled with BeReal's "on-call" nature. Moreover, they will need the freedom to post in real time without going through an intricate approval process.
The BeReal public